Project Description
Shopify Website Design for CPG Brand
Founded by Naomi Seifter, Picnik came to be after she desired a way to improve her health and enjoy an allergen-free diet. After she found a solution, she decided to create a restaurant in the Austin area selling wholesome food that's convenient and nutritious.
At the restaurant, they began selling their creamers, which can now be bought at Target and Kroger locations all over the country. They are hoping to expand their audience through their eCommerce site and continue to grow their business and product line.
With this project, Picnik reached out to efelle to help create a brand new website specifically for their creamers.
Project Objectives
As their first site dedicated solely to their creamers, Picnik wanted to have a site that really showed off the products while maintaining a healthy balance with lifestyle imagery. The team at Picnik wanted the site to be a fabulous branded experience that also worked well to sell the products.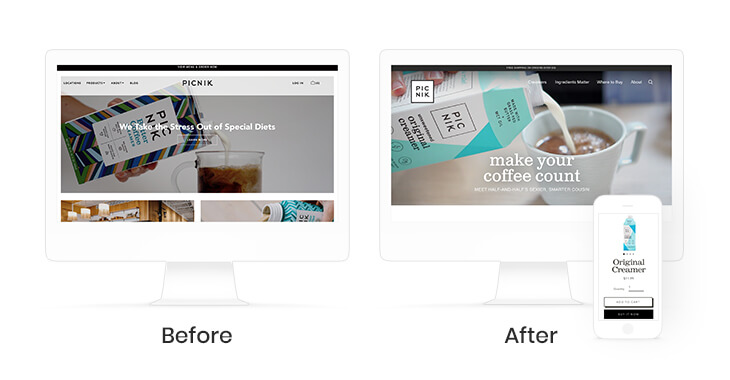 Design Notes
One of the overarching goals of the site was to create one that really spoke to the brand. The brand of Picnik is friendly yet bold and focused on functionality and health. Throughout the site we use bold imagery of both the creamer in use and lifestyle images of people, especially those within their target market, enjoying Picnik.
One of the value propositions of Picnik is that their creamers are functional without compromising on taste, so we used icons to highlight the benefits while using reviews and real customer testimonials throughout the site to show the delicious taste of Picnik.
We also added some fun illustrations throughout the site that bring their personality to life and create a fun branded experience throughout the website design.
Shopify Development
We worked with the Picnik team to understand their long term goals with the site and decided that Shopify would be a great fit for them to power their site with. The number of apps available for their functionality as well as the seamless eCommerce experience was important for the build and Shopify fit the ticket.
The way the site is built allows the team to easily make updates to their site and allows for new products to be added as they continue to grow.