Website Redesign for PT Clinic

Project Description
Website Redesign for Consulting & Medical Clinic
Pinnacle Medical Wellness initially came to efelle for a website a few years ago. Since then, they have evolved from a multi-location Physical Therapy clinic to a business that owns one PT office, manages clinics owned by others, and are looking to expand the management side of the business. Pinnacle seeks to maintain their PT practice while integrating the medical fitness resources they have developed into existing pathways.
Website Design Project Objectives
With this change in mind, they reached out to efelle to help restructure their website to match their new needs. A few of the primary goals included a website o better express the vision of Pinnacle Medical Wellness, to better communicate to B2B clients, while maintaining the excellent service for which they are known, for existing patients and members.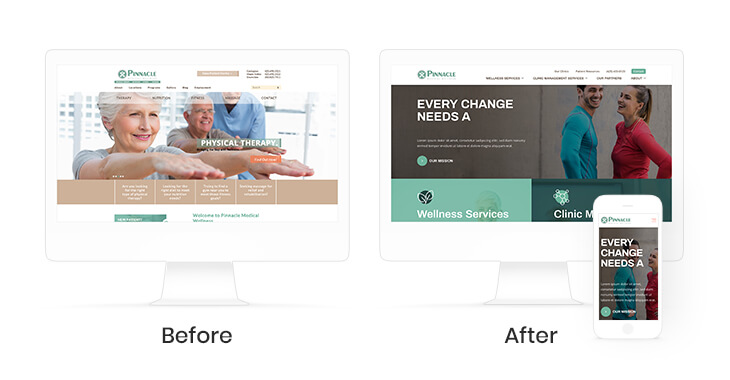 Website Redesign
With this structural change, we wanted to refresh the website in a way to reflect this without making the brand unrecognizable. Pinnacle decided to maintain its current branding while evolving it slightly to create a cleaner look and feel. The perception we wanted to create with this website design was clean, professional, and welcoming while maintaining the idea that the team at Pinnacle are subject matter experts.
On the homepage, where most users will land, we wanted to lead with a focus on belief systems of proactive medical care and then have a clear and natural way to branch off to areas of the site catering to your two distinct audiences.
With this new homepage design in mind, we needed to restructure their navigation. While this can seem like a small portion of the site, it's actually crucial to a positive user experience. For Pinnacle, they were introducing a new audience that includes a B2B audience, so we wanted to make sure the navigation was clear for both target audiences.
Throughout the site, you'll see updated icons as well as photography, giving a cleaner look and feel. We updated the accent colors to be more prominent, again sharing a friendly and welcoming feel, while the content and it's structure reinforces their thought leadership.
Website Development
The site was previously built on our FusionCMS, so we were excited to redevelop onto our updated version and help the team continue to grow.
The site was built with more modules that are going to allow them to further build out their B2B portion of their business. We specifically developed out Case Study pages that walk the users through some of their cases, sharing the problem, their strategy, how they solved it, and then links to each of the services provided. These pages will help them build trust, and are also built with great SEO due to their service links. With the CMS, they are able to easily update the site with new case studies as well as any other portions of the site.