Project Description
Website Design for Seattle Based Mechanical Construction Company
PSF Mechanical has been one of Seattle's most trusted commercial mechanical firms for over 120 years. Starting in 1898, they made a name for themselves as sheet metal contractors and have since grown due to their integrity, teamwork, professionalism, and continued client advocacy.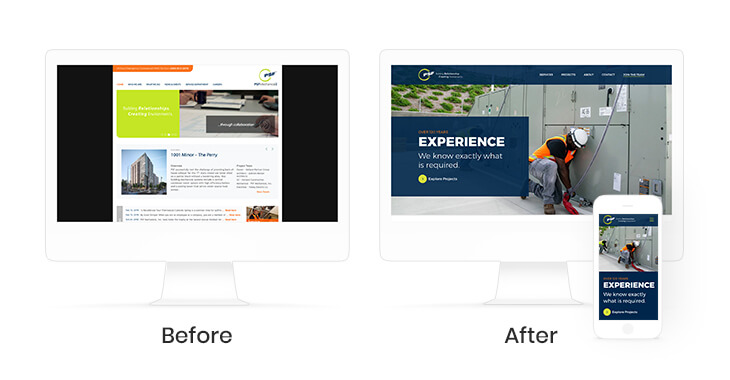 Project Objectives
With an amazing company culture and their long-standing experience in the industry, PSF wanted their new site to reflect this throughout the design. Along with the design updates, PSF was looking to create a website that was a better resource for potential clients, as well as potential employees.
Website Design
The long-standing history and experience of PSF Mechanical is a huge benefit to their clients and they wanted to highlight that while also showing their commitment to innovation. We used the design to create a clean background that matched their brand colors while leaving space for content and photos to show off their history. Throughout the website, we use content to highlight their over 120 years of experience, while also highlighting their range of services and recent projects.
With a goal of using the site for recruitment as well as attracting clients, we worked with PSF and made the decision to include the Join the Team call-to-action right in the header navigation, which leads to a robust page sharing the benefits of working at PSF, links to current openings, and even testimonials from employees about why they love working there.
We also designed out a beautiful Projects Portfolio that highlights their work and shares relevant information about the project. With long-standing relationships with numerous clients, we highlight the "Client Since…" right away to show the trust they build with their clients.
Website Development
As a construction firm website, there are some best practices we follow when building a site, including a robust service page along with interlinking portfolio content, which was built into the website. It's easy for the team at PSF to update their portfolio and even add new services if they expand since the site is built on FusionCMS.
With a lot of projects and a growing team, it was important for PSF Mechanical to be able to update their website with new listings often. Within FusionCMS, they can create a new listing and add any relevant information right into the template. They can automatically pull it to the overview Careers page so it's easily found by potential employees.
With FusionCMS, this custom design was built and put onto an easy-to-update platform.
Have a question about this website design or interested in your own? Contact us.