Project Description
Website Redesign for B2B Company
True North Gear is a family-owned and operated company whose products are distributed worldwide. They design and create innovative products for tough jobs, especially including wildland firefighters. They are constantly innovating and improving based on feedback from their customers to develop the most functional and comfortable gear and clothing.
Project Objectives
True North Gear was a previous client of efelle's, and we were excited when they decided to revamp their online presence and added some much-needed functionality. With this redesign and redevelopment, we created two sites, one that was Direct-to-Consumer and one that was B2B.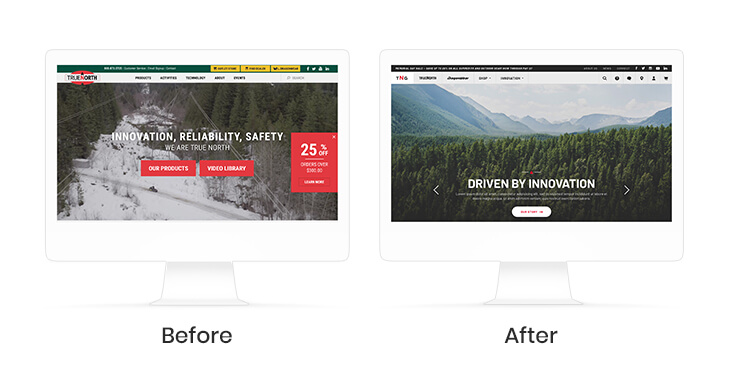 B2B Website Redesign
Being well known in the industry with widespread popularity among retailers, True North Gears B2B site's functionality was crucial to their business. We were able to include quite a few custom pieces to make their business work, including:
Custom homes screen that requires a login
Order history look up, allowing dealers to search their past orders
A tracking Feature that allows users to type in their tracking ID directly on their account page to get tracking info
The ability for dealers to backorder
Quick Order, which allows dealers to search and add products to a "list", then type in bulk quantities on that page. Faster and more efficient than adding each item to the cart individually.
We also integrated with numerous other programs including:
Integration with Fishbowl for inventory tracking and fulfillment
Integration with ShipperHQ with shipping quotes (pretty standard)
Integration with Olark chat
D2C Website Design
Going direct-to-consumer for the first time, we wanted the True North Gear consumer site to be easy to use, with content at the forefront to tell the story of TNG.
To put content and design at the forefront, we used FusionCMS to manage content, and BigCommerce to power the eCommerce aspect.
With content at the forefront, we were able to design around the brand of TNG, rather than putting their brand in a box.
We designed and built out custom pages for each of their Innovations, sharing information about each category of their proprietary fabric. These pages tell more about the fabric, how it was developed, as well as the features and care. From there, we link to specific products in the line for users to shop after learning about each innovation.