Deborah Reyes
Product Support Specialist
There is no success without sacrifice. If you succeed without sacrifice, it is because someone has suffered before you. If you sacrifice without success, it is because someone will succeed after. -Adoniram Judson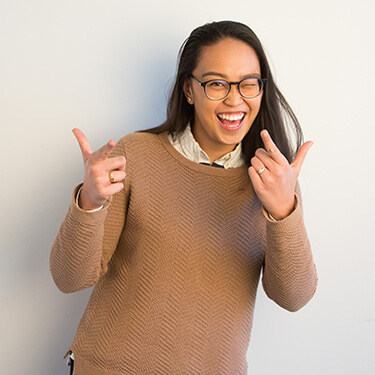 Deborah is a product support specialist at efelle. She loves bringing her background in operations, customer support and web development together into one job. Her favorite part about working at efelle is the opportunity to take on new challenges every day and grow her skills.
Background
Upon graduating from UC San Diego with a History degree, Deborah worked in Marketing for 2 years. After becoming the unofficial IT lady in her department and discovering her love for problem-solving, she decided to pivot her career towards web development. She took the plunge and completed a full-stack web development bootcamp. Now she's ecstatic to be a part of the efelle team where she can apply her skills to help clients with their awesome websites.
Hobbies
Outside of the office, Deborah loves music and has been playing guitar for about 15 years. Deborah's been a volunteer mentor to college students since graduating college and finds it the best part of her week.
Unique Skill(s)
Deborah can identify the title and artist of most 2000-2010's pop songs after listening to first 3-5 seconds of the song.
Fun Facts
Even though Deborah is right-handed, she uses her computer mouse with her left-hand.
Deborah has been to over 10 countries but can only speak 1.5 languages fluently.
She's a life-long Lakers fan and has affectionately named her car "The Black Mamba" after the best basketball player ever. #mambamentality
Primary Location