Shane Krolikowski
Application Development
As a wise man named Jerry once said, "It's a matter of getting it done in a time frame that works for you".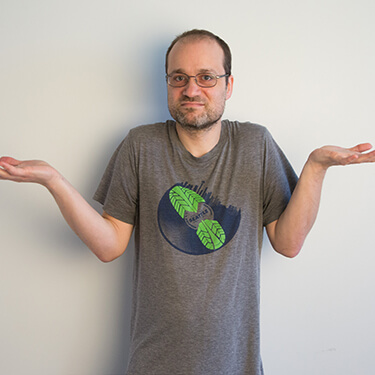 I grew up in Tacoma and have lived in Seattle a good portion of my life. Went to UW Seattle for a degree in Botany, and then several years later UW Bothell for a degree in Computing & Software Systems (you'll just have to trust me cause my degree doesn't actually say it).
Background
I was once a Houston cop who played by my own rules, on a self-appointed mission to bring down the drug trades and suppliers. During an undercover mission my partner was killed by an alien invader who came to our planet to extract a chemical from his victims. I later found out this chemical was used as a rare drug on his home planet. After vanquishing this bad alien dude, I gave up my badge and decided to become a programmer.
Hobbies
Building a shrine for the Cat Lords.
Bringing the fight to the alien invaders
Watching Pawn Stars
Drawing
Unique Skill(s)
I can create a valid complaint about anything.
My presence at Seattle Sonics games guaranteed their victory (too bad they moved).
I can make a perfect batch of pancakes without looking at a recipe.
Fun Facts
Sometimes my OCD kicks in and I have to touch things an even number of times.
Primary Location