Project Description
eCommerce Website Design for Global Retailer of High-End Car Seats
Diono sells its high-end car seats, strollers, baby carriers, and accessories to happy parents all over the world. Based in Seattle, they have a passion for problem solving and safe family travel that has inspired a number of their award-winning products.
Project Objectives
With a growing business and a high-end line of car seats and accessories, the previous website for Diono wasn't reflecting their brand nor was it ready to help scale their growth. The site needed both backend and frontend improvements to increase efficiency, while also marketing its capabilities and innovative products.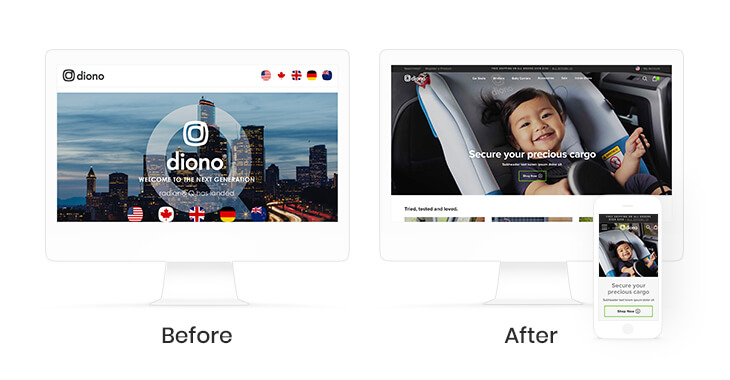 eCommerce Website Design
For the design of the site, we wanted to show how well the products worked - in functionality, safety, and aesthetic. Diono's products are a combination of innovation in terms of how their products work, as well as how seriously they take children's safety, so the website needed to highlight both. The final design strikes a balance between fun and safe while maintaining a serious tone by bringing in human touch and highlighting the care put into developing and creating their products.
The design color choices used their signature green, along with light greys and whites that compliment both their color and black and white photos. Being based in Seattle, they wanted to celebrate their PNW roots and emphasize their brand story, so we used their color palette and content to do so.
The photo content of the website is strategically mixed between lifestyle photos of their products in use and product photos. Their high-quality product photos make a beautiful addition to the responsive homepage design, as well as standing strong on their own on individual product pages.
The product page design was made to hold a lot of photos of the products, as well as a lot of information about the safety, testing, specifications, age and weight notes, and more. The design was made so that the information was presented in a digestible format, without skimping on anything important.
eCommerce Website Build
As we mentioned, the backend of the site was just as important as nailing the aesthetic of the website. When deciding on eCommerce engines, based on the robust needs and the benefits of a Saas platform, we recommended a build on BigCommerce, with FusionCMS to manage non-eCommerce content.
Through FusionCMS we were able to create a beautiful custom design, along with building a strong base of organic SEO.
On BigCommerce, we were able to do a number of different eCommerce customizations to make sure the shopping experience would fit exactly to Diono's needs.
Swatch image customizations

Faceted search via custom fields

Image galleries switch out when swatch color is selected

Multiple payment options for all types of customers and devices
At the end of our initial project engagement, we'll have five different websites with Diono, for their international sites. Each of these international sites shares the same theme/design with some regional differences built into the code. This means, in the future, as they add more regions, they can make arrangements with BigCommerce to add another store to their account, and we can duplicate their existing Fusion site and connect it to that new store in a streamlined way.
Diono also sells across many other marketplaces (Amazon, Walmart, small retailers) so to sync the inventory data, we implement Salsify and eBridge to communicate information from the warehouse to BigCommerce making sure that inventory is updated in real-time in every marketplace and warehouse.
The sites also use a number of amazing Applications to optimize site.
Yotpo was implemented to help provide a streamlined review process, as well as a platform to allow users to ask questions regarding specific products - an important part of communicating with their discerning customers.

Fast Checkout makes it extremely easy for users to begin a purchase, starting right on the product page. Once a user has an account, they're able to checkout with one click.

Route allows for a new insurance checkout option for customers that manages the process and allows for them to make sure products are tracked and delivered on-time.

BundleB2B was created for the wholesale checkout for B2B customers with custom integrations for credit limits
We're looking forward to continuing our partnership with Diono, helping them expand their business, adding more to their websites and helping them continue to optimize their site through apps and ongoing marketing tactics.
Have a question about this website design or interested in learning more about how to start your own project? Contact us.