Project Description
Web Design for Seattle Law Firm
Lee Smart has been serving Seattle for over 100 years, defending all types of claims, including complex litigation, malpractice, professional liability, and more. They provide cost-effective resolution litigation that are advocates for their clients all over the country and was looking for a new website design to better reflect their firm.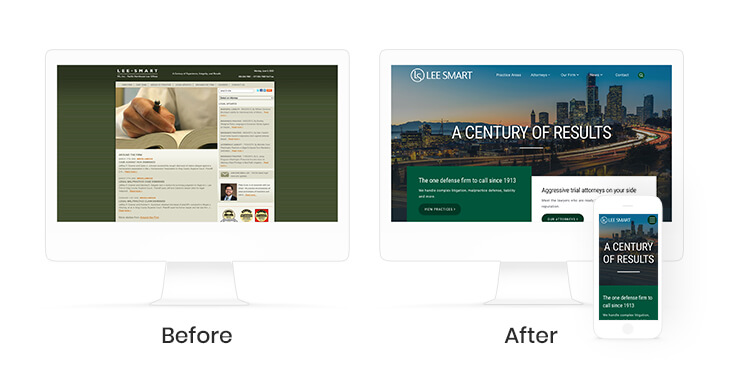 Project Objectives
We began the project with a logo redesign. The Lee Smart team wanted to maintain their long-standing brand recognition, but update the color palette and ensure the logo is usable across the multiple mediums.
Once the new logo was created, the website followed suit. The design of the site was to be clean and pay homage to Seattle, where they are located, while also showing they serve clients nationwide. The design needed to clearly state their experience, build trust, and make it easy for potential clients to find what they needed on the website.
Logo Design
We updated the law firm's logo design to be a sans-serif font and update the green coloring. While they wanted to keep the same general idea of green, they also wanted to build out the color palette a bit further. We tried both a more aggressive green, while also expanding into navy. We ended up going with the navy palette and used the name mixed with an icon of the letters.
Website Design
The law firm's website design starts with the homepage, featuring a large and expansive photo of Seattle. From there, we created CTAs to practice areas and profiles, using offset boxes bring visual interest and highlighting the level of experience. The homepage also ties in news & updates, further building trust with users by sharing new and upcoming cases they are fighting for.
Throughout the rest of the website, the box designs are repeated to keep design consistency, from the Practice Areas to the Attorney listings. The dark forest green from the new color palette is used as an accent throughout the site as well as to highlight CTAs.
Website Development
The website is built on FusionCMS, making it extremely easy for the Lee Smart team to use. When we first scoped out the project, we discussed the different areas that would be most often updated. The homepage masthead, along with the attorneys, and news and events were the areas to be most frequently updated. With that in mind, we built the CMS to easily allow for updates in those areas, putting those areas on the dashboard and making it clear where to update with new information.
To make for easy user experience, we linked attorneys focused on certain practice areas on the pages, with easy links to their email and profile. The practice pages also feature Representative Cases to show their wide depth of experience.