eCommerce Website Design for Naturologie

Project Description
eCommerce Website Design for Naturopathic Products
Naturologie is related to the naturopathic clinics, Naturomedica, a Seattle staple that's been in operation since 2007. There are 6 clinics offering acupuncture, IV therapy, skincare, nutrition services, and a dispensary that is open to the public. Naturologie is their online store, selling pharmaceutical-grade vitamins, minerals, and supplements directly to consumers. Their new site also serves as a great resource for users, with informational articles about various health conditions the doctors at Naturology / Naturomedica can help with.
Project Objectives
The goal of the website redesign was to create a more functional website that improved the UX, while helping increase sales and drive recurring subscriptions. We also wanted to build the site to compliment the Naturomedica Clinics website so users didn't feel like they were stepping into a whole new world when switching between the two sites.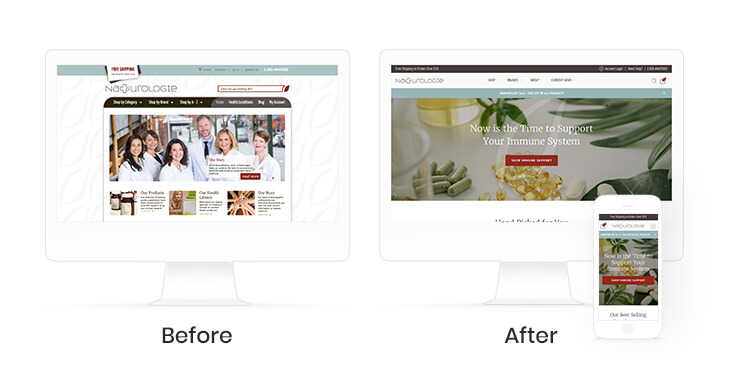 Design Notes
The main aesthetic goals of the website design were to make it both professional and clean, as well as high-end with a focus on making it easy for users to make a purchase. We created a featured products section right on the homepage to make sure the users could find products right away. Our team also worked closely with Naturologie to make sure that the menu was both intuitive and informative so that users could find the products they were looking for quickly and easily, based on a number of different criteria.
Throughout the site we created sorting options based on "Health Conditions," and with a number of different options, our team worked to customize icons for each condition, making them unique and informative about the condition, while also making sure the entire set of icons was cohesive and matched the design.
eCommerce Website Development
The site is built using FusionCMS and BigCommerce, making it a powerful eCommerce website that's also able to use a custom design and focus on content. Along with The site uses custom scripts to allow for ingredients to dynamically swap out based on variant as well as allowed for a custom more robust Customer Groups feature.
With product information being crucial to their business, we used dropzones to allow for more robust information to be listed within each product tab, without the limitation of 250 characters with the standard BigCommere Custom Field.
The site is powerful and creates a seamless user experience that makes it easy for users to explore, make a purchase, or learn more about Naturomedica.