Project Description
Sugimoto Tea has been creating and selling Japanese green tea since 1946. Their long-standing history and innovation has made them one of the most popular on the market. They are committed to customer satisfaction and their many years in business are a testament to it.
As the second-generation CEO, Hiroyuki Sugimoto said, "I'm proud of the many awards I have received, but the most important thing to me is customer satisfaction. Ultimately, customers like you decide whether my teas are worthy of these awards; if my customers aren't happy, these awards mean nothing to me."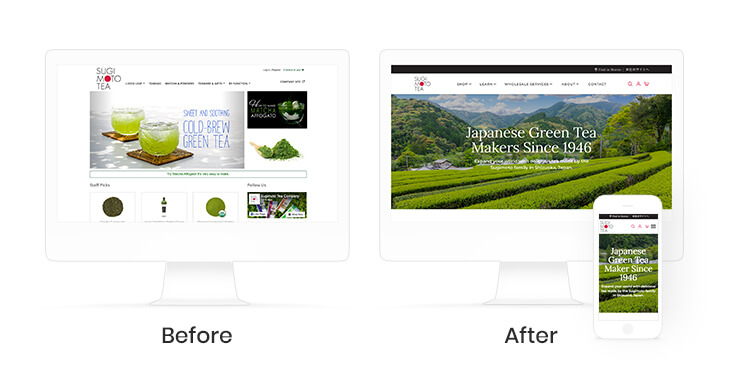 Project Objectives
The goals for the new site redesign were all-encompassing in both design, UX, and functionality. A primary goal was to improve UX sitewide, seamlessly integrating the eCommerce and non-eCommerce pages.
Secondly, the Sugimoto team wanted the website to be inviting and appealing to a range of customer groups; from individual consumers to small wholesale buyers and large companies buying in bulk. While larger customers make up a bigger segment, appealing to consumers is important in order to diversify the business and raise brand awareness.
Finally, we wanted to provide useful knowledge of tea and tea making for potential customers both B2B and B2C and well as telling the Sugimoto story and share what makes Sugimoto team different.
Design Notes
Our goal was for the site to be pleasant, welcoming and informative, drawing on Japanese heritage but also showing the innovative nature of the Sugimoto team. In terms of colors, we went with a lighter palette, reflecting the color scheme and feel of the new logo. We wanted to stay away from the overuse of green, employing the color as more of an accent and enhancement. This green accent really allows for the colors of the teas to take center stage, and the white space leaves a clean feel that puts the focus on the products and photos.
The Sugimoto team provided beautiful photos of their tea growing, sorting, and packaging in Japan that we were excited to highlight throughout the site. With a long-standing history, we were also able to use vintage photos when telling the story of the three generations that have worked to build Sugimoto to what it is today.
With a number of different types of tea, we designed the product category pages to be flexible and allow for information about each category to be shared at the top of the page. The product pages use icons to share preparation methods and other features.
Development
The Sugimoto team found that it was important to be able to educate their consumers about their different products, as well as the different methods of brewing. Along with this learning, they wanted a way to tell their story and share what makes them different. This meant that content was a crucial part of the way that Sugimoto sold their tea and therefore needed to a front seat on the website. We built the site using FusionCMS to allow for flexibility with their content and design. Using a CMS, they are able to present their content in a clear and informative manner, giving users the opportunity to dig deeper to learn more.
eCommerce Website Build
The previous website for Sugimoto lead to a separate page for shopping which would often confuse potential customers. Through an API call, we create a seamless integration with the BigCommerce store and make it easy for customers to shop.
Using BigCommerce allows for a powerful eCommerce engine, which was important for the Sugimoto team. Their audience consists of both D2C and B2B buyers, so we wanted to create space for both to be able to shop. With BigCommerce, wholesale logins are easy to create and use, giving the Sugimoto team flexibility in pricing, product rules, and more.
As the Sugimoto Tea Company continues to grow, we are excited to see how they can continue to use their website to do so. As they are found in more and more stores, as well as retailers throughout the U.S, we are looking forward to continuing to partner with them as they grow.