We often get a lot of clients who say "I want to show up first on Google search results." And it makes total sense… who clicks past the first page these days? People rarely do, despite the hundreds, potentially thousands of listings that are vying for their attention.
As we move forward, you should understand that there are different areas of search results that you can end up in, with strategies for each. We'll break them down further and how you can approach them, but let's start with the basics.
Three Areas You Can Rank on a Google Search Page:
Pay Per Click Ads
These are more targeted campaigns for specific keywords or phrases with quicker results. We often see increased website traffic very quickly, targeted page traffic and overall increased conversions with Pay Per Click marketing. The results show at the top of the page and have the word "Ad" next to them.
Local Map Listings
Local search engine optimization results are most prominently seen on what is called the "Local Pack" map on Google search engine results page. If you are a local business looking to rank to people searching in your area, then local SEO can be a good way to gain their attention.
Organic SEO Listings
Search engine optimization includes numerous strategies that help grow your business long-term. The goal results of these are improved organic search engine results on Google, position improvements for local SEO, and increased traffic to your website on numerous pages. Thes show up below Pay-Per-Click ads and maps (if applicable).
The map below shows an example of the results for one of our clients, City Seamless. They install rain gutters, along with many other services throughout the Southwest. When you search "Las Vegas Seamless Gutters," you'll see how they rank in all three of these areas. First is the PPC Ad, then they show up in the "local pack" listings, and finally they're the first organic listing.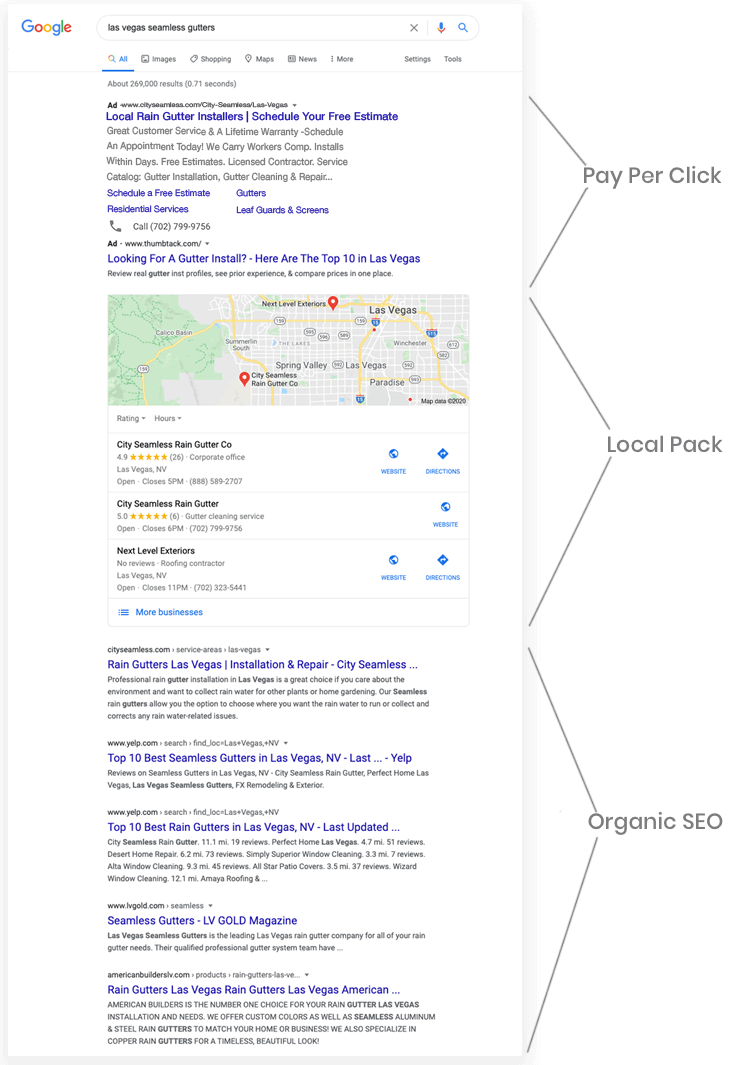 The Best Ways to Rank in Google Search Results
This means, there's a lot of different ways for you to rank on Google's first page and different strategies to get there, so we'll cover the following:
How Do You Rank for PPC Ads?
The thing with pay-per-click ads is… you pay for them. They are essentially ads at the top of a page for specific keywords.
That being said, don't think that you can just pour a lot of money into Google and hope your ads will get the first spot. Google's algorithm is an ever-changing beast with the goal to help users get the best results, only showing the most relevant ads.
What does that mean for you? It means there's a strategy to PPC ads, the reason why many people turn to agencies to help them out.
The basic formula for calculating an ads rank boils down to:
Ad Rank = Bid x Quality Score
The Bid is obviously the number you're "bidding" (because it's not a guarantee), while the Ad Quality score is made up of a few factors including:
Ad Relevance - How relevant is it to what your users are searching for?
Expected Click-Through-Rate - How likely is your ad to be clicked on, based on past performance or similar ads?
Landing Page - How relevant is the page you're sending traffic to based on the users search? Say a user is searching for a yellow t-shirt - Google won't want to send a user to the homepage of an apparel brand, they'll want to send them to a page specifically relevant to the search.
What this means for you as ranking for Pay-Per-Click ads will require money and a targeted strategy. The amount of money required really depends on the industry you're in and how competitive it may be. That being said, if you're working with a team of strategists, they can work with you to find long-tail keywords and more targeted keywords to help reduce spend and overall increase efficiency.
Finally, we wanted to share why we like pay-per-click ads: they're extremely targeted as well as efficient, making it overall more cost-effective. You have a lot more control over pay-per-click ads, both in terms of spend and who will be seeing them.
How Can Local Search Engine Optimization Get You Onto Google Maps?
You're probably familiar with Google Local search results whether you know it or not. Google uses location data to help make results to help display nearby businesses as a result.
Chances are, you've probably added the words "near me" after you've searched for something like "pizza," "plumbing service," or "car repair." A very Seattle-esque search term is going to be our example. When you search "shellfish Seattle" you're immediately prompted with listings for Taylor Shellfish Oyster Bars.
To rank locally, you need to optimize your Name, address, and phone number citations across the web (using things like Yelp and Google My Business). You also need to have an optimized Google My Business page in and of itself.
So, how do you optimize your Google My Business?
In short, there are a few things you can do to get the best results using GMB.
Make sure your physical, as well as service areas, are accurate.
Choose only a few categories to describe your overall core business.
Keep your naming, signage, and branding consistent with how it's represented in both in your actual store, as well as other social platforms.
How Do You Use Organic SEO to Get Your Website on Top of Google's Organic Results?
While some people prefer to click on ads, you'll find that users often continue to scroll to organic results, meaning it's important for you to rank there as well. There are even some results that don't pull ads but pull the organic results directly, meaning you could make it to the top of the search results for free!
Although it may be potentially free of money (if you're not paying an agency) to rank, it's a lot of hard work to make it to the top of SERP. There are a few high-level ranking factors you should know of to make sure you're setting yourself up for success.
Your site is responsive. If you don't have a site that only looks good on desktop… you're not going to rank well. And that's that. It's time to get a responsive website!
Site speed is optimized. Remember how we said Google cares about providing the best possible experience to searchers? If your site is slow to load, they see that as a poor experience and won't rank you.
Your site is built with the goal of ranking for keywords relevant to your business. This means that headers, URLs, meta-descriptions, and service listings are all optimized for your specific keywords.
There's content on your site that supports and conceptualizes your keywords. Everything from articles to blogs to landing pages to videos can be beneficial to your SEO.
That being said, there's also a lot of work behind the scenes that can really help optimize your site organically that agencies work to do, like optimizing meta-descriptions, optimizing URL structure, garnering backlinks and more. These steps often take a bit more time and require more accuracy.
Get on The First Page of Google with efelle creative
At efelle, we've been optimizing our client's websites for years, getting results fast to help reach their goals. Want to outrank your competitors and grow your business? Fill out the form below and we'll share what it takes to get there.
Learn More About Search Engine Optimization, Pay Per Click Marketing, and Digital Marketing...
>> Search Engine Optimization Terms You Need to Know
>> Three Small Search Engine Optimization Tips that Make a Huge Difference