Effective Law Firm Website Design
Increase exposure & attract new clients with a professional website for your law firm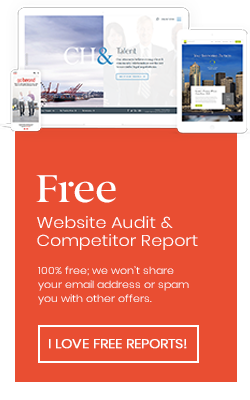 You don't build over 800 websites without learning a thing or two about what makes a website WORK; if your firm's site isn't generating traffic and converting that traffic into cases, OR your law firm isn't showing up in search engines then it's time to talk.
Today, the vast majority of people looking for a lawyer start their search online. That's why it's more important than ever before to invest in a professional legal website that makes a positive first impression on potential clients, and a UX (user experience) that effectively converts that traffic into new cases.
A professional website that is representative of your firm will help you attract new clients and cases that are the perfect fit. It will also free up your staff's time by automating several business processes. The old adage, "time is money," couldn't be truer than in the legal sector. Using a ready-made template might seem like the easiest way to go, but the legal industry is highly competitive—an original, visually appealing website that uniquely positions your firm and differentiates it from the competition is just what you need to take the results of your online marketing efforts to new heights.
How we can help with your law firm marketing strategy
We will design a clean and professional legal marketing website that captures your law firm's brand image and comes equipped with all the tools needed to generate more qualified leads. It's not ALL about the website, but your site IS the cornerstone of your digital marketing efforts. And what's powering it it just as important as how it looks.
All of our professional law firm website programs include the following:
The LawFirmFusion CMS for website updates & integrated marketing
Edit and update your website at your convenience with our easy-to-use interface
Get a quick overview glance at simple dashboard analytics & metrics to ensure your website is operating at optimum levels
Provide users with automatic PDF generation on staff and service pages with the LawFirmFusion PDF module—this isn't just a "printed web page"; our sites build professionally designed, print-quality flyers using the most recent web content on the fly! No more manually managing Microsoft Word documents and PDF files!
Take automatic PDF generation a step further with our new Digital Briefcase module, giving your staff or website visitors the power to create an on-the-fly PDF file complete with not only service and staff info, but also a cover sheet, table of contents and closing sales arguments; it's all done automatically and with the most recent website content
Get access to an easy-to-use contact form module that syncs with your email so you can generate more leads and track them with ease
Receive free and easy CMS training so all staff members can learn how to update the website
Integrated, organic Search Engine Optimization (SEO) to get your law firm's website found online
Want more targeted traffic from the search engines? 90% of all search referrals come from the first page of search engine results—our SEO tools will ensure that your website is among them!
Get help with keyword research to figure out which keywords your firm should target for the highest return on investment
Build pages with the proper page titles, headings and other components for SEO using FusionCMS
Artcle & Newsletter systems that allow simple updates and keep the traffic coming
Demonstrate your expertise in specific areas of law through legal blogging
Use your blog to target a wide range of keywords and drive more traffic to your site from search engines and social media outlets
Use LawFirmFusion's integrated MailFusion system to easily create newsletters and emails for potential and existing clients
Ready to generate more traffic & create cases with your law firm's website?
Let our experienced online marketing team of over 40 web design and development professionals help you develop a professional website that sets your law firm apart from the rest. Please call 206.384.4909 or fill out our online contact form to contact a law firm web design specialist for more information.