eCommerce Store Migration from Volusion
Volusion is an eCommerce platform with over 30,000 merchants on it. They recently filed for Chapter 11, and while they shared that their goal is to stay in business, we know that a lot of eCommerce merchants don't want to risk it.
We'd recommend you use this as an opportunity to take a step back, assess your needs, then see what your options are for moving forward for eCommerce platforms. Now is a good time to take a second to look at what you need in terms of flexibility, cost, and ease of use.
At efelle, we work as consultants and want to share openly with our clients their options during a time of uncertainty like this. We'll share a few things to consider.
What are your options if you're still on Volusion?
While it might seem like a scary time full of uncertainty, we promise you'll get through it. First step is to take a look at your options.
Replatform Your Website from Volusion
As we previously mentioned, now is a great time to take a step back and take a good look at your website. Now that eCommerce is more important than ever, you should make sure that you have a focus on your website. While this risk is certainly a huge determining factor, we wanted to share a few other questions to consider in terms of replatforming:
Is your website performing how you'd like it to?
Is it easy to update your website with new products, images, etc.?
Are there things you wish your website could do that it can't?
Have you heard positive or negative feedback from customers about your website?
When was the last time you redesigned your website?
Stay On and Risk It
Volusion released a press release noting that they are here to stay and work hard to make sure their merchants are okay. If you're happy with your experience and trust that Volusion will make a comeback, then you can stay on the platform for the time being.
Consider how much of your business is reliant on your website, what it would be like if you didn't have it, and how your business could function.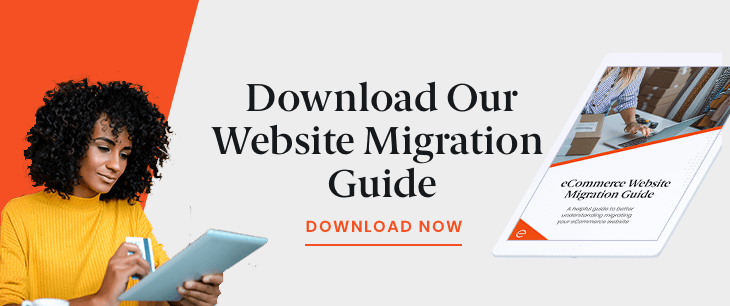 Want to know what it's like to migrate your eCommerce website to a new platform? Check out our Guide to eCommerce Website Migration, sharing tips, tricks, and other helpful information about what it's like to migrate your site. Download the guide here:
Agency Experience Migrating from Volusion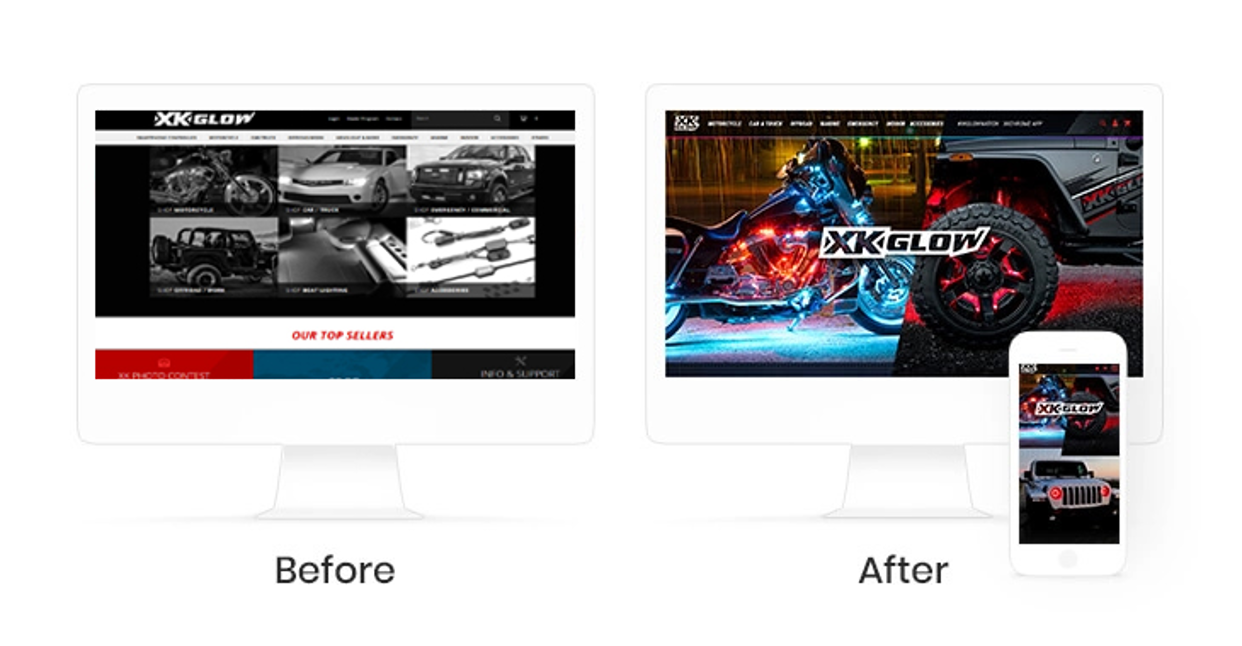 At efelle, we've got years of experience under our belts working with clients to migrate their sites from one platform to another. One highly successful project we'd highlight is when we worked with XKGlow to revamp their website and replatform from Volusion to BigCommerce. We worked with them to make sure the process was smooth and their needs were met with this new redesign.
When you work with an agency, a replatforming doesn't have to be a bad experience. Here at efelle, we like to make it as smooth as possible, sharing the tools and technology that make it easy to make the switch. Our consultative team will help you with the following and more:
Current Site Audit
Optimization Recommendations
Order History Migration
Design Changes and Updates
App Relocation
Content Restructuring
UX / UI Best Practices
Is Your Website on Volusion and You're Unsure What to Do?
At efelle, we've been working in the eCommerce world for over 15 years. We've survived through a number of ups and downs and helped our clients do the same. With your best interest in mind, let's hop on a call and talk through your situation and see what will work best for you. Fill out the form below and one of our Digital Strategists will reach out via email to schedule a call.