Bring In New Clients for Your Financial Services Firm
Financial service firms face the unique challenge of a crowded industry of big-name companies vying for the business of your potential clients unlike any other. Mitigating this issue can be done through an effective digital marketing strategy; by sharing your business's story, approach, and results you provide.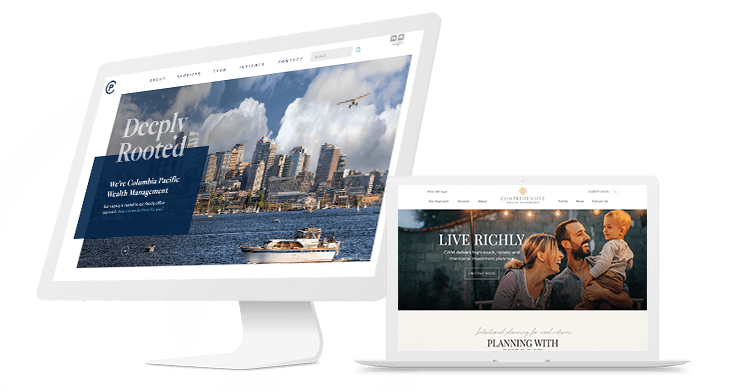 From wealth management to financial consulting, we've worked with a number of businesses in the financial services sector and understand each business is unique. We believe custom design is the crucial cornerstone for wealth management and financial consulting firms to differentiate themselves from a crowded industry.
How efelle can help market your practice
Building trust and converting your users can be done with a holistic strategy combining outbound and inbound marketing, design custom around your practice, all on a system equipped with all the tools needed to generate more qualified leads.
Web Design Custom To You:
Tell your unique story through a custom design and share what sets your firm apart
Provide an easy way for potential customers to understand your firm's approach
Site flow & navigation based off of your unique client and target market
Calls to action throughout the site, making it easy for users to reach out at any moment
Blog & Insights pages that allow you to share your knowledge as a thought leader in the field

A Powerful CMS Makes it Easy to:
Edit, update, and add new service pages
Update homepage hero image, images throughout the site, and build new content
Create contact forms throughout the site
Easily integrate with popular email platforms to maintain contact with current clients
Search Engine Optimization (SEO) & Pay per Click Strategy
Data-driven strategy to put your website in front of the right people - potential patients
90% of all search referrals come from the first page of search engine results and our SEO strategies will ensure that your website is among them!
Get help with keyword research to figure out which keywords your firm should target for the highest return on investment
Ready to grow your wealth management firm through digital marketing?
Let our experienced online marketing team of 30 web design and development professionals help you develop a digital marketing strategy that sets your practice apart from the rest. Fill out the form below for a free website assessment and consultation: