We've got the strategy to bring the right patients to you
Providing medical care to someone requires you to build a higher level of trust through your digital marketing than most sectors. Marketing your clinic or medical practice can seem tricky, but it all comes down to getting the right patients to your website.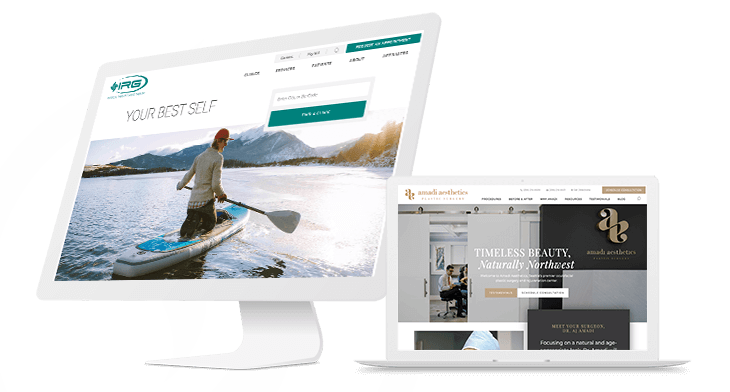 We've worked with a wide variety of medical clinics, from plastic surgeons to naturopathic providers, and we've worked to understand the unique needs of those serving in the medical industry. We begin by finding the right patients to fit your practice with an outbound strategy. From there, we provide information and build trust through content strategy and professional website design.
How efelle can help market your practice
Building trust and converting your users can be done with a holistic strategy combining outbound and inbound marketing, design custom around your practice, all on a system equipped with all the tools needed to generate more qualified leads.
Each practice and therefore strategy is unique, but we keep the following principles in mind when designing and building a medical website.
Professional Medical Website Design Includes:
A design custom to your practice to build trust with potential clients and tell your unique story
User Experience designed site flow to provide the information necessary for potential patients to make a decision
Calls to action throughout the site, making it easy at any stage for users to reach out
Informational service pages that provide all necessary high-level information
Blog & New module to provide practice and clinic updates and share your expertise with users.
For some practices, before and after galleries can be a great way to provide useful information to users that can help them make their decision
A Powerful CMS Makes it Easy to:
Create and upload new blogs to build trust with users
Understand analytics and site performance
Update your homepage, images throughout the site, and write new content
Create contact forms throughout the site
Integrate with popular CRM platforms to manage client relationships and build out inbound marketing tactics
Search Engine Optimization (SEO) & Pay per Click Strategy
Data-driven strategy to put your website in front of the right people - potential patients that are searching for a clinic just like yours.
90% of all search referrals come from the first page of search engine results and our SEO tools will ensure that your website is among them!
Get help with keyword research to figure out which keywords your firm should target for the highest return on investment
Ready to generate more patients through your medical digital marketing?
Let our experienced online marketing team of 30 web design and development professionals help you develop a digital marketing strategy that sets your practice apart from the rest. Fill out the form below to learn more: