Brandon "Chappy" Chapman
Web Developer
Your focus determines your reality.
– Qui-Gon Jinn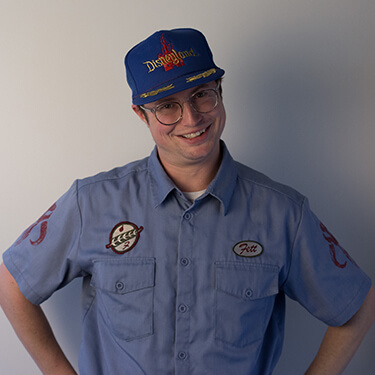 Brandon is a mostly self-taught front-end web developer who loves the internet with a passion. A self-described nerd, he finds excitement in making designers' ideas come to life with pixel-perfect accuracy. If he isn't creating websites, he is likely watching Star Wars or playing video games.
Background
Brandon is a Vancouver, WA, native and proud Wazzu alum (Go Cougs!). He moved to Seattle in 2014 to be closer to his college crush (who is now his wife). He ran his own web development business for four years before moving on to greener pastures here at efelle, and he's very excited to be a part of a team creating amazing websites. Brandon also has a very large amount of love for his 14-year-old mutt, Lexi.
Hobbies
Brandon loves the internet and all things digital. He's been an avid gamer since he can remember—his earliest gaming memory centers around "Jill of the Jungle" on MS-DOS. Brandon's passion for the gaming industry goes beyond simply playing video games; he also enjoys watching video game tournaments, going to gaming conventions, and podcasting about it all. Brandon also loves to snowboard and spend time with his friends.
Unique Skill(s)
Brandon loves to cook and learns recipes whenever possible. His most recent culinary obsessions are sous vide cooking and making pressure cooker recipes. Brandon's other skills include fixing things, snowboarding, and internet research (read: Fantasy Football). He also fancies himself a decent Overwatch player.
Fun Facts
Brandon is a clodd, in his mom's words. He has broken his arm four times and spills about one drink per week on average. He once had a photo published in Transworld Snowboarding. Brandon only has one major bucket list item: to make his own video game.
Primary Location